- Fishing Guide Service
in Östergötland -
Start Page | Fishing Guides in Sweden
Fishing waters in Sweden | Fishing waters in Östergötland

Click on any of the following links to get a presentation
of each available fishing guide.
Trolling Vättern Vadstena, trolling fishing on lake Vättern for salmon, trout and arctic char
Peter Törnqvist, trolling fishing in Vättern for salmon
Hans Nordin, spin & trolling fishing for trout, salmon and char in lake Vättern
Ryda Jakt & Fiske lake Åsunden and Björkern, fishing for cray-fish, pike, pikeperch, perch, char, tench and eel
Östanbäck Fiske fishing in river Svartån.
Fishing Guide Service in lake Vättern

Trolling Vättern Vadstena
We offer trolling fishing on lake Vättern all year round. We fish for salmon, brown trout and arctic char. We normally departure from our home port in Vadstena but on demand we can arrange departure from any other port. The fishing will be done from a Wellcraft 238 Coastal, a fully equipped 7,7 metres cabin cruiser. One of Swedens most exclusive trolling charter boats. It is certified for 8 passengers, but when used for fishing 3 – 5 passengers are recommended. Overalls with floating ability are available for rent.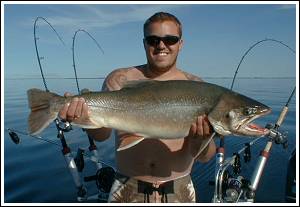 Boat record 2007, Char 6,85kg
The world record for Salmon caught with a rod (20.4 kg) is set in the lake Vättern in December 1997.
The Trolling charter tours are suitable for conference guests, business people - their customers and/or personel, tourists and fishing enthusiasts. Why not give a Trolling charter tour as a present to someone who will have an unforgettable experience on one of the best renowned fishing lakes in northern Europe.
Booking can be made for a day or why not for a whole week. Just the boat trip itself with the nature scenery and the equipment on board is well worth a reservation.
Web site: http://www.trolling.se
For more info and reservations contact: Lars-Eric Andersson
Address:
Trolling Vättern Vadstena
Bjälbovägen 45
SE592 41 Vadstena
Sweden
Phone: +46(0)143-12453
Mobile: +46(0)70-5391335


© Cinclus C 2017